Barnet Homes Social Value Contractor of the Year 2020
Specialising in direct client works and social housing projects in London and surrounding areas
From our regional Greenwich office we have successfully completed numerous projects, predominantly associated with direct client works and social housing schemes. We have the experience and skills to offer the full spectrum of services relating to a typical social housing refurbishment project:
Electrical rising and lateral main replacements.
Internal dwelling rewires.
Inspection and testing.
Communal lighting Renewal.
Fire alarm systems.
Door entry & access control.
Warden call.
CCTV.
Communal door replacements – both internal and external.
Lightning protection surveys & installation.
All associated fire stopping, builders works & carpentry
Our direct works also encompass such elements as:
Ventilation system improvements.
Generator and inverter renewal.
Solar thermal installation and the associated plant room interfacing.
School rewires.
The London Team…
Our management team has a long history of working in the social housing market place, consistently delivering a high quality product coupled with a first class service. As a team we are also fully versed in the importance of making excellent resident and client relationships the cornerstone of a successful project.
Sales & Enquiries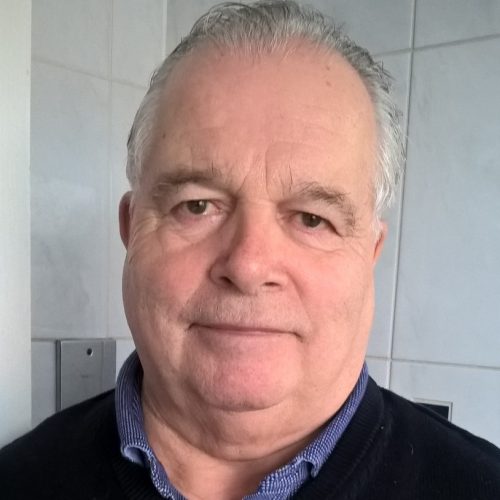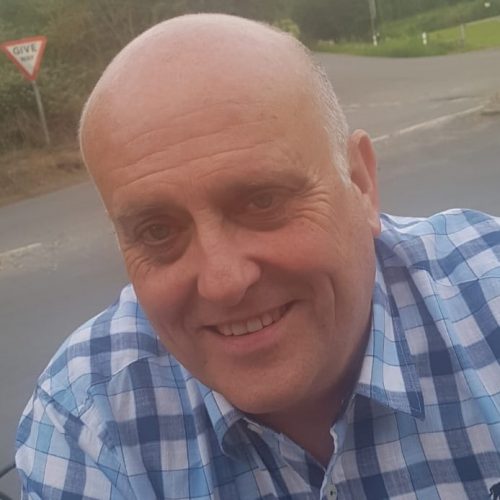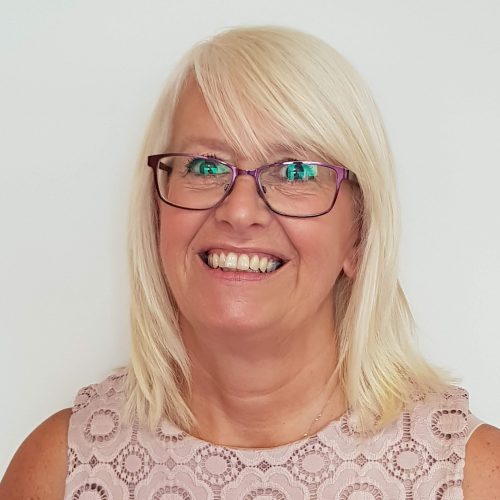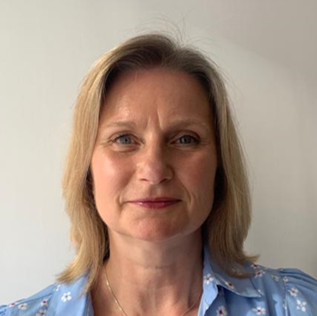 Engineering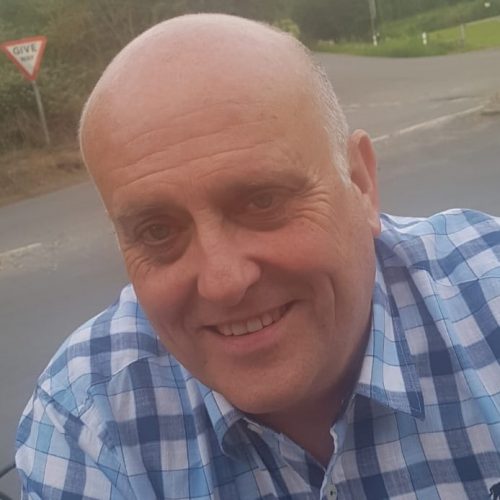 Site Management
Experience has taught us that by allocating repetitive or similar tasks to the same set of tradesman, a benefit is brought to the overall delivery and quality of our product and that is why we break the works down into trade/system packages, each headed by a site supervisor. Our site managers are our most experienced operatives; competent to interpret working drawings, understand the trade/system packages and manage their own trade/system team.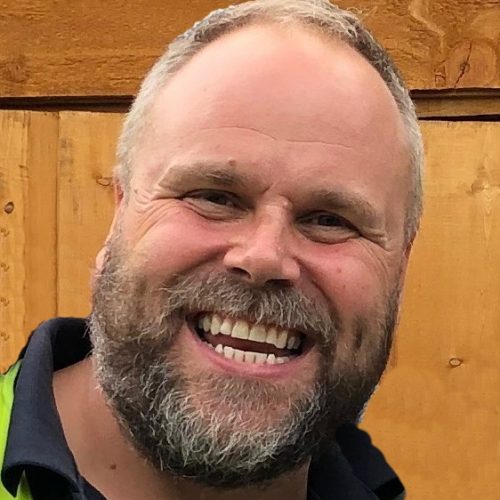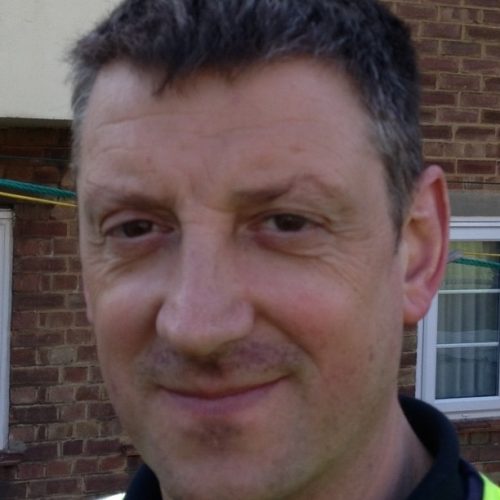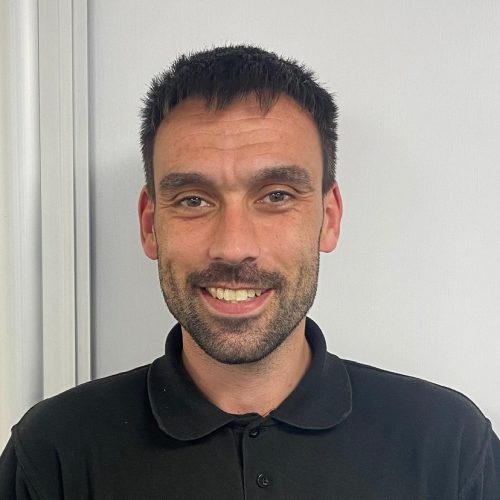 Site Supervision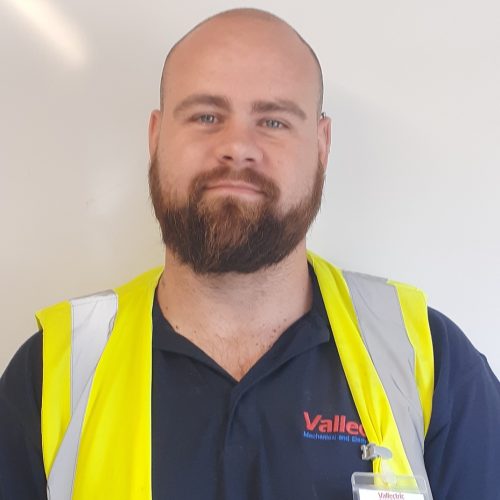 Resident Liaison
Our Residents Liaison Officers are responsible for establishing and maintaining open lines of communication with the various resident committees and local area housing offices, attending all scheme resident meetings, booking appointments with the residents and conducting pre-commencement internal surveys. They are also responsible for monitoring the works within a dwellings as they progress and collecting the customer satisfaction forms.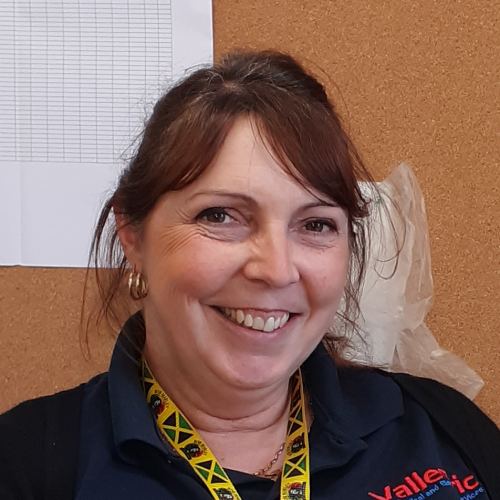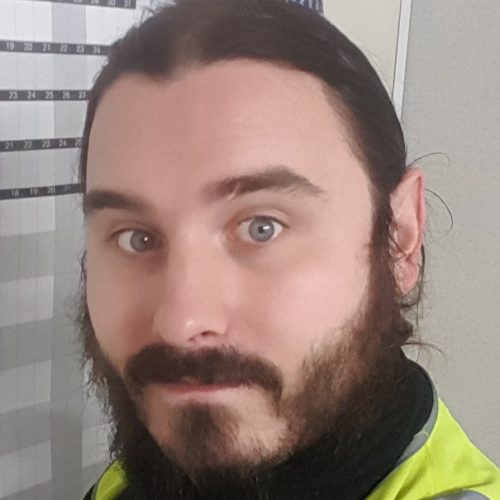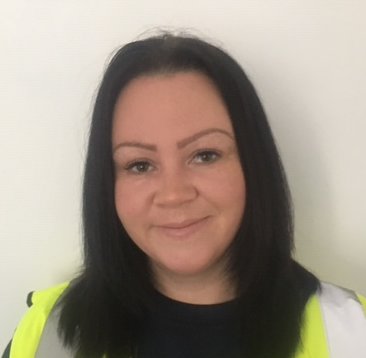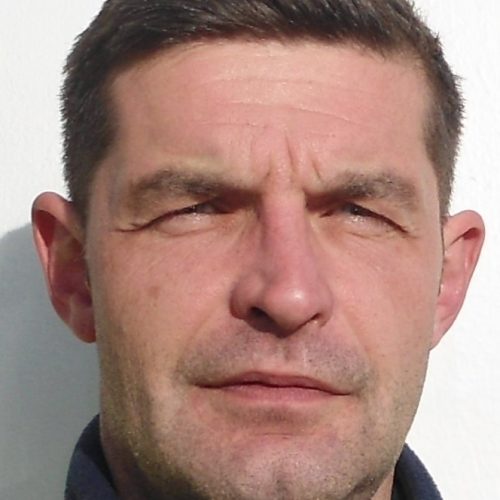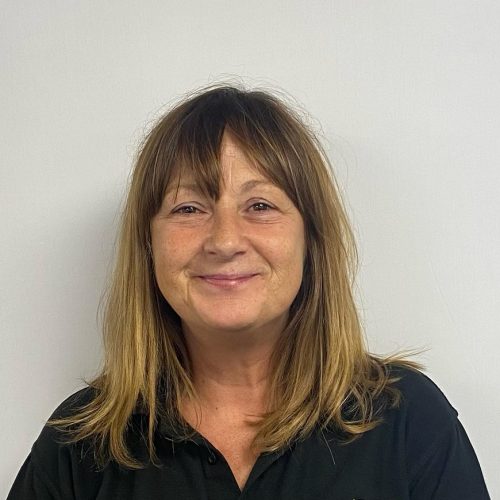 Some quotes from tenants and clients:
I will give Jenny Lucas a hundred per cent marks, she did a great job, a lovely lady, very helpful, caring, and always with a cheerful face to everyone, we will be sad to see her go.
Mary Kenny - tenant - Gadsbury Close
I would like to take this opportunity to compliment Ms Jenny Lucas on the professional manner in which she has conducted herself at Gadsbury Close. It has been a pleasure to work alongside her, she has been very caring towards the residents here and has become part of the family.
Yvonne Smith - Sheltered Housing Office - Barnet Homes
Apprentices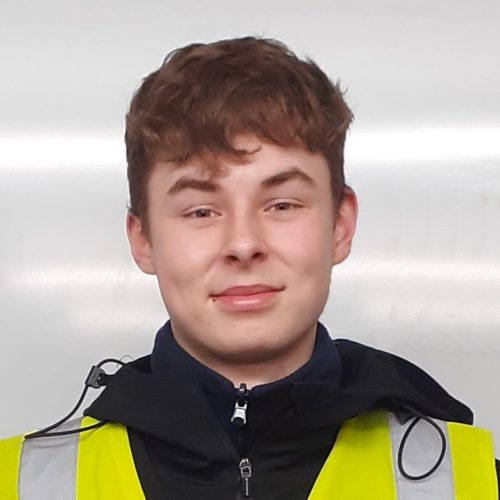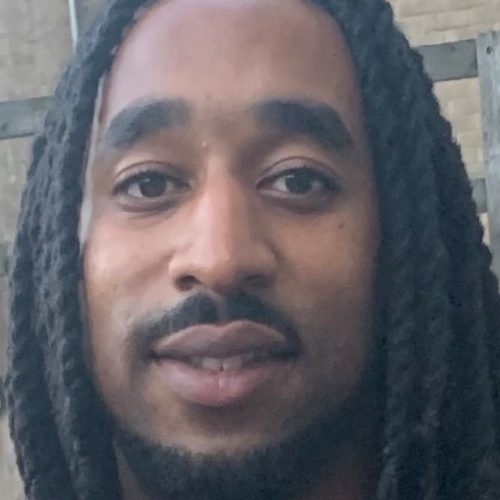 Health & Safety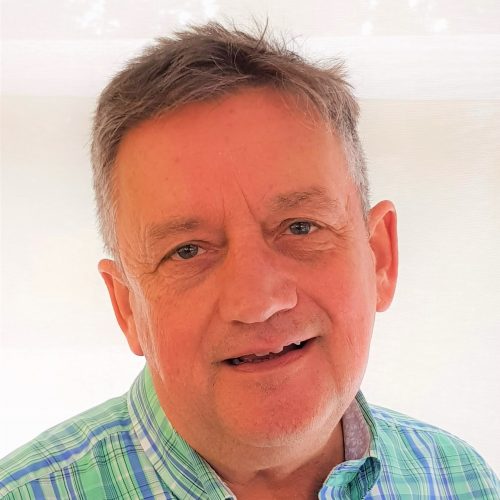 Surveying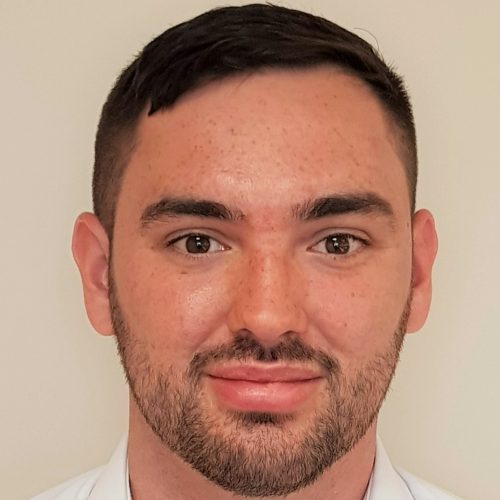 Frameworks…
We have been awarded approved contractor status on a number of frameworks in recognition of our ability to ensure best practice, compliance, assurance, quality, innovation and resident safety.
Royal Borough of Kensington & Chelsea, Capital Investment Works Programme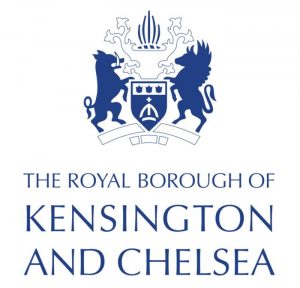 A framework agreement worth £10m over 4 years for the provision of construction works for the Capital Investment Works Programme involving the repair and replacement of mechanical & electrical assets boroughwide.
Royal Borough of Greenwich, Home Improvements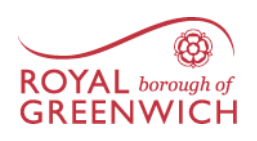 A 5-year Framework agreement for the improvement of residents' homes throughout the borough by renewal of rising and lateral mains, upgrading of communal lighting, installation of new emergency lighting and decoration to common areas.
Fusion 21, Energy Efficiency
Hyde Housing, Fire Safety Services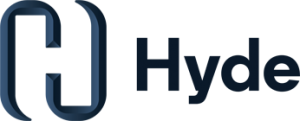 Hyde is one of the largest housing associations working in England, owning or managing circa 50,000 homes in London, Kent, Surrey, Sussex, Hampshire, the East of England and East Midlands. We have been appointed as one of 26 contractor on a 4 year framework to deliver fire safety services for the group.
Awards…
We're very proud of the work we do and our positive impact on the community.  It's very pleasing, therefore, when we are formally recognised for our achievements.
Social Value Contractor of the year 2020, Barnet Homes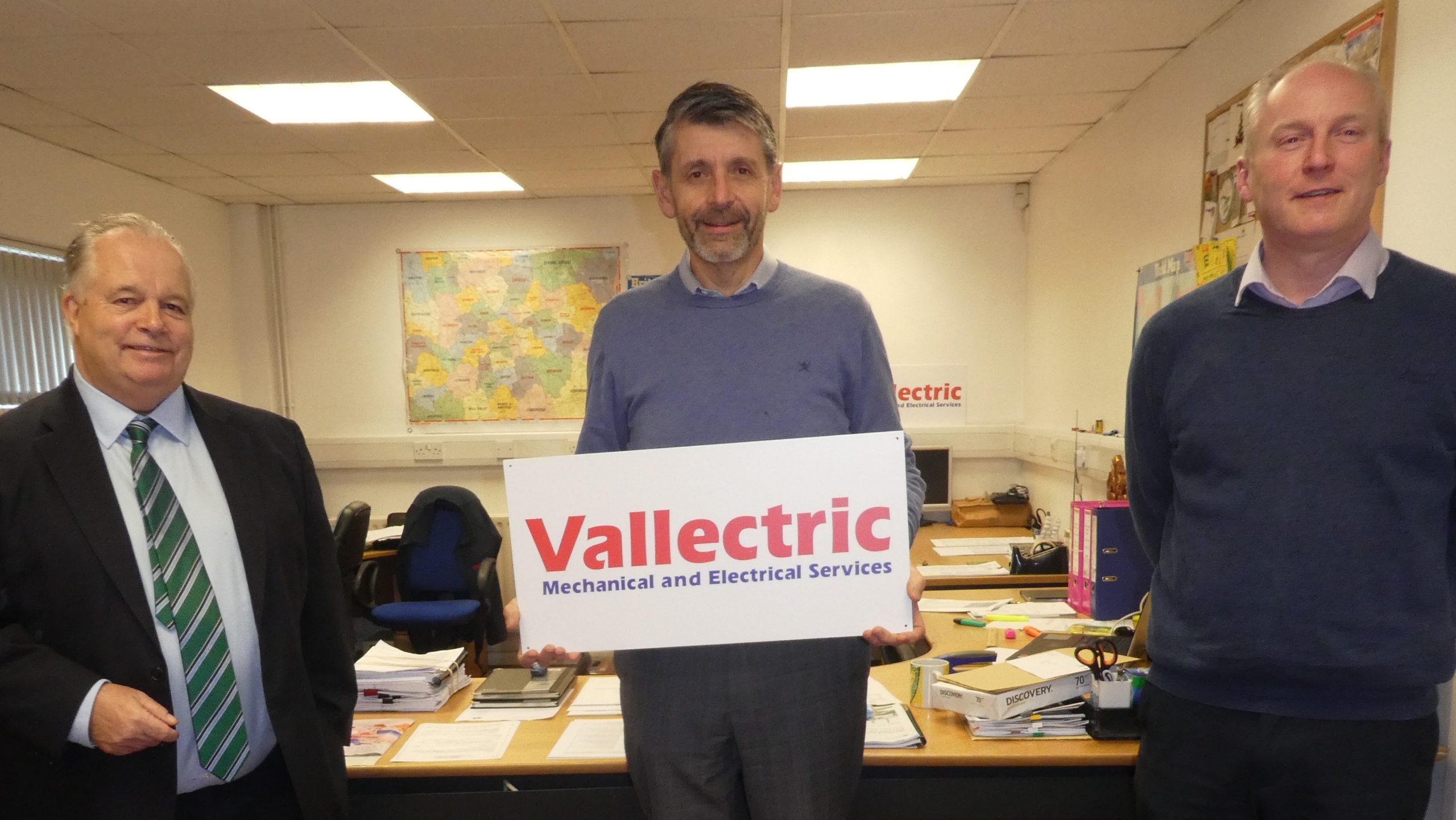 The award is in recognition of our commitment towards supporting and improving the overall wellbeing and prospects for the Barnet community including:
Contribution to a Covid-19 Recovery Fund,
Provision of training and job opportunities,
Design and installation of a new community garden area,
Commendation from residents.
Pictured from left to right are Bob Wilde, Social Value Co-ordinator, Greg Slater, Managing Director & Jason Oakford, Operations Manager.
Comments from our clients…
Various Projects
I have found Vallectric to be professional and proactive with a work ethic that goes beyond the expectations of the client.
Alastair Macfarlane
WSP Group
Electrical Rewiring, Uttlesford
The engineer was quick at responding to queries and deals with them in a polite and professional manner.
Andrew Hurrell
Uttlesford District Council
Lift Supplies in Camden, London
Lakehouse are happy in the additional information provided to residents and lakehouse from a techncial basis.
Papu Ram
Lakehouse
Barnet Planned – Lisle and Cricklewood
I found that the Vallectric team worked safely and professionally through out this contract and the engineering team very obliging and attended to any issues promptly. Vallectric is a company I would a be happy to work with, based on past experiences.
Errol Singh
MSPS
1-140 Longberrys, Barnet
Vallectric were very professional and helpful during the contract period. I would be very pleased to be able to work with them again.
Errol Singh
Morgan Sindal
Various Projects
From Directors to the site operatives their approach is one of client focussed delivery with expertise and quality born of deep rooted experience in their field.
Alastair Macfarlane
WSP Group
Alexander & Ainsworth Estate
Completely on the ball.
Christopher Palmer
Camden Borough Council
115-170 Clitterhouse Road, Barnet
The installation team were very professional in their approach to the contract. The engineering team were helpful at all times and were responsive in dealing with queries. New to Vallectric, but very pleased with the outcome.
Errol Singh
Morgan Sindall
Lift Supplies in Camden, London
Lakehouse and the client are more than happy in the way Vallectric have carried out their contracted works from operational to senior level.
Papu Ram
Lakehouse
Electrical Rewiring, Uttlesford
The team seem to be well versed with installations and have a professional attitude with conduct to our residents.
Andrew Hurrell
Uttlesford District Council
Some of our projects…
Social Housing
Electrical Rising Mains Replacement & Communal Lighting Introduction, Parkside Estate, Bow
ERM replacement and the introduction of new communal lighting to 11 block locations on the Parkside Estate in Bow east London covering 650 homes, on behalf of Kier Services Housing Maintenance. The Client being The Clarion Housing Group. This scheme included works to Lakeview, a modernist style block with significant historical interest, which overlooks Victoria Park. Originally designed by the Russian architect Berthold Lubetkin whilst with his Tecton practice.
| | |
| --- | --- |
| Client | Kier Services Housing Maintenance / Clarion Group |
| Approx value | £3.5m |
| Duration | Oct 2016 to Jan 2019 |
Electrical Rising Mains Replacement, Foundling Court, Brunswick Centre, Camden

This is a historical scheme completed by the Vallectric team in London. The Brunswick Centre is an iconic building, listed as Grade 2 by English Heritage. Vallectric were tasked with installing new surface clipped MICC cabling from the existing incoming service position to each respective dwelling. The scheme was challenging as all cable routes, methods of installation/termination, colouring of the MICC PVC sheath needed approval from the delivery team and ultimately English Heritage as the works progressed. Vallectric adopted a proactive managerial approach, instigating bi-weekly on site meetings and sectional completion of the works.
| | |
| --- | --- |
| Client | Camden Council |
| Consultant | Nifes |
| Approx value | £50k |
| Duration | May 2004 to February 2005 |
Electrical Rising Mains Replacements + New Riser Routes + Communal Lighting + All Associated Builders Works, Rowley Way, Camden

Rowley Way is an iconic site within Camden, designed by Neave Browne of Camden' Architectural Department in 1968, which is listed as Grade 2 (both internally and externally) by English Heritage. Vallectric were engaged by Camden Council to replace the existing Electrical Rising Mains to 366 properties serviced by 72 risers on the site. Numerous challenges were overcome successfully by the Vallectric site management team, these included:
The creation of a new internal riser pathway to the 72 riser locations.
The careful removal of the original ceramic tiles to the kitchen areas within the 366 properties, followed by a cleaning and adhesive removal process which Vallectric devised with the assistance of the original tile manufacturer. Once the new ERM cabling had been installed the tiles we reinstated, all in accordance with English Heritages strict guidelines and overseeing.
The removal of kitchen units, followed by the cutting of internal dwelling floors to facilitate the new ERM cable routes.
Our concluding statistics for the project reflected:
95% Resident Satisfaction Levels
A maximum 2% Consultant Snag Level. With the 113 Tasks defined per property the average snags raised against the collective Tasks within a property was 2.
| | |
| --- | --- |
| Client | Camden Council |
| Consultant | Nifes |
| Approx value | £1.3m |
| Duration | May 2011 to February 2013 |
Electrical Rising Mains Replacements, Paddington Green and St. Johns Wood

This scheme comprised of the renewal of the electrical rising and lateral mains to 256 homes, spanning 19 blocks in 2 geographical locations within the London Borough of Westminster. The Client remit was given via a performance specification which Vallectric had to embrace and evolve into a full design. The majority of the installation was broken down into the following elements:
Liaising and interfacing on site with EDF Metering and UKPN.
The installation of a new Ryefield Boards
The installation of new Landlords Switch Gear and Intake Lighting.
The installation of powder coated galvanised trunking and the inclusion of 25mm2 SWA cabling.
The effective changeover of the existing R&L system to the new.
Joinery works associated with boxing in as and when required.
Decorating works in the areas affected.
Builders work pertaining to the creation of new Mains Intake Cupboards.
| | |
| --- | --- |
| Client | City West Homes |
| Approx value | £450k |
| Duration | March 2010 to October 2010 |
Extensive Projects, Barnet Homes
Vallectric have been privileged to have been working for Barnet Homes since November 2011. To date, Vallectric have completed the works to 244 blocks, which encompass 3,598 individual properties. Our remit is extensive and encompasses the following system renewals and/or introduction of:
Electrical Rising Main
Internal Dwelling Upgrades / Rewires
Communal Lighting
Door Entry
Warden Call
Fire Alarms
CCTV
Lightning Protection
Fire Compartmentalisation
Communal Doors
Ventilation Systems
Suspended Ceilings
Brick Built Intake Cupboards
Fall Arrest Systems whilst the works are on-going
Environmental Cleaning
Our own Resident Satisfaction statistics reflect a 96% satisfaction level since works commenced in 2011. All of our sites have permanent Site Managers, Resident Liaison Officers and a dedicated cleaning team. Here are some sample projects:
Fire Safety Works, Granville Road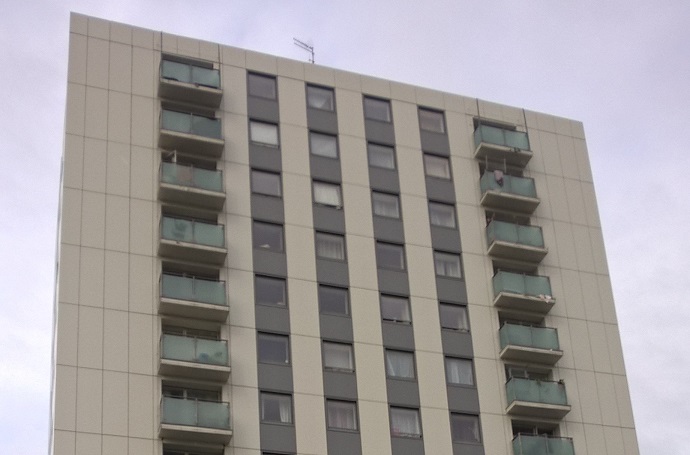 Having recently completed Fire Safety Works in one of the tallest Tower Blocks within the Barnet Homes Housing stock Longford Court, Vallectric have recently moved on to the Granville Road Estate where they are involved again with Fire Safety Works, this time on 3 tower blocks, Granville, Templewood and Harpenmead each comprising 15 floors. Works will include:
Installation of sprinkler system
Installation of LD2 fire detection system
Installation of fire dampers in bin room
Replacement of refuse chute hoppers with self-closing fire resisting ones
Installation of fire collars to svps in ducts
Replacement of riser cupboard/communal doors
New Flat Entrance doors
Making good decorations to disturbed areas
Fire safety and general signage
| | |
| --- | --- |
| Client | Barnet Homes |
| Approx value | £3.3m |
| Duration | Aug 2021 to Mar 2022 |
ERM & Fire Safety Works, St. Johns Close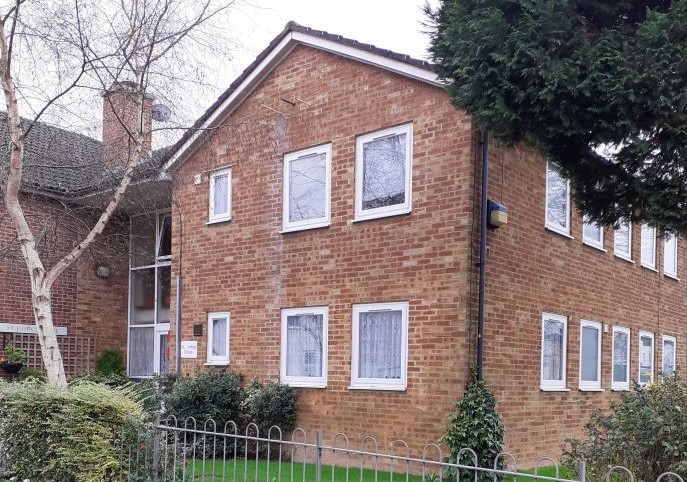 ERM & Fire safety works for 17 dwellings, entailing:
Mechanical refit of boiler room plant and all heating/water distribution pipework.
Electrical refit of mains intake and sub mains distribution.
Full rewire upgrades to individual flats.
L1 fire alarm system throughout the block.
Class 2 sprinkler system to flats and areas of high risk.
Replacement external doors with video access control.
Replacement internal fire doors.
Replacement flat front fire doors.
New Smart energy efficient lighting to communal areas.
Electrical testing and upgrades to dwellings to current electrical regulations.
| | |
| --- | --- |
| Client | Barnet Homes |
| Approx value | £2m |
| Duration | Feb to Nov 2021 |
Fire Safety Works, Longford Court

Fire safety works for 128 dwellings over 16 floors, entailing:
New internal communal fire doors
New fire rated front doors to dwellings, residential choice of 5 colours
Asbestos removal from redundant communal rising extract system.
Fire stopping to central risers
New stand-alone extract systems to each dwelling for improved bathroom ventilation
Upgrade of dwelling to BS 5839 pt6 - LD2 fire alarms
Sprinkler protection to each dwelling and landlords service areas all boxed in and hidden where possible
Fire alarm system to landlords service areas
Electrical testing and upgrades to dwellings to current electrical regulations
| | |
| --- | --- |
| Client | Barnet Homes |
| Approx value | £3.5m |
| Duration | Jan 2020 to Mar 2021 |
Housing Block Refurbishment, Vale Court
Works entailed:
New block entrance doors with access control and full automation.
New internal communal fire doors
New video access control to each dwelling
New warden call system to dwellings and communals
Installation of  LD1 fire alarm to block with off-site monitoring
Sprinkler protection to each dwelling and landlords areas all boxed in and hidden where possible
False ceilings to communal areas
Newly painted communal areas with class 0 paint.
Electrical testing and upgrades to dwellings to current electrical regulations
New mains incomer, distribution and lateral mains to each dwelling complete with surge protection.
Full rewire of landlords areas with new smart emergency lighting incorporating  off site monitoring
| | |
| --- | --- |
| Client | Barnet Homes |
| Approx value | £1m |
| Duration | Jul 2020 to Mar 2021 |
Housing Block Refurbishment, Christchurch Close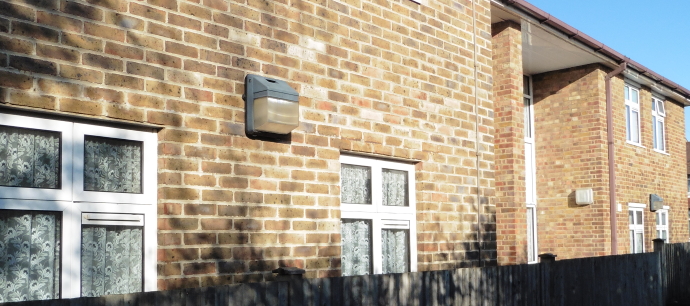 Works entailed:
Electrical Rising Mains Design & installation (ERM)
Fire Stopping Works inc. Fitting of new Internal & External Fire Doors
Installation of new Lighting scheme & Emergency Lighting
Door Entry
Building Works
| | |
| --- | --- |
| Client | Barnet Homes |
| Approx value | £1m |
| Duration | Aug 2018 to Jul 2019 |
Communal Lighting Replacement, Daren Court, Holloway, Islington

Vallectric completed the replacement of the containment and lighting at Daren Court, a 9 level, 90 property 1960's tower block. Due to the extensive amount of existing surface mounted services, we liaised closely with the client producing not only working drawings, but detailed service interface drawings, to ensure that the installation was as aesthetically pleasing as possible. Frequent client meetings, and a strong Vallectric managerial presence, resulted in the project being deemed snag free at the point of completion. O&M manual information was handed across 48Hrs after the final works on site had been concluded.
| | |
| --- | --- |
| Client | Islington Council |
| Approx value | £100k |
| Duration | November 2012 to February 2013 |
Domestic Occupied Testing + Upgrades + Rewires, Saffron Walden, Essex

The Uttlesford District Council framework comprised of undertaking electrical inspection and testing, with any resulting upgrades / rewires being completed, to all of the UDC council properties stretching over their extensive 248 SQ Mile geographical catchment area. Vallectric made provision for a permanently based Contract Engineer and Resident Liaison Officer, who had to adapt to their working practices / efficiencies with due consideration for the large geographical working area. This was successful achieved, with the resulting resident satisfaction statistics demonstrating a 98% satisfaction level over the cumulative 6 years of operational activity. In addition to the contracted social housing framework, as the relationship evolved with UDC and the trust/confidence became established, Vallectric were asked to assist with a multitude of other works such as repairs to street lighting, improvements to the council chamber lighting, new communal lighting to sheltered Residential Blocks.
| | |
| --- | --- |
| Client | Uttlesford District Council |
| Approx value | £2m |
| Duration | October 2010 to March 2016 |
Electrical Installation Replacement, High Trees Community Development Trust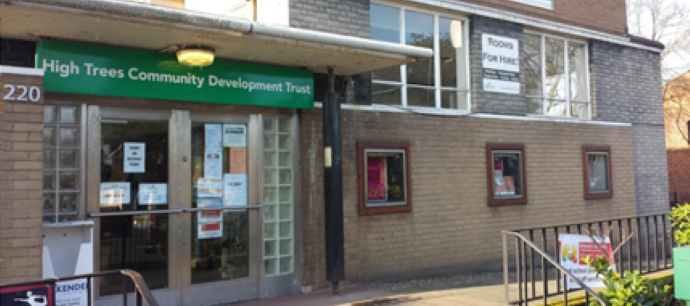 Vallectric have undertaken a comprehensive re-replacement of the electrical installations at the Tulse Hill premises of the Hight Tree Community trust including:
Surveying and design of a new lighting system with Luxonic Lighting
Design and installation of a full new electrical system to BS7671
Design and installation of a new CAT6 Data system
Design and installation of a full fire alarm system
During the design of the works it became apparent that the Trust wanted to convert the basement storeroom into a usable computer teaching room but unfortunately the budget would not facilitate these works. Vallectric suggested as we the Trust is a charity we would up-cycle existing dado trunking and sockets from exiting classrooms and install it in the basement free of charge. These works included the installation of dado trunking and sixteen Double sockets.
| | |
| --- | --- |
| Client | Kier Group |
| Approx value | £82.5k |
| Duration | Aug 2019 to Nov 2019 |
Electrical Installation Works, The Oaks, Greenwich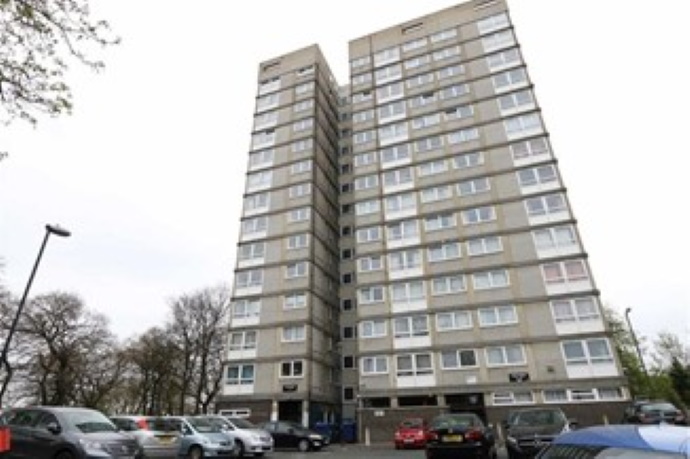 Works:
Design and installation of New Electrical Network Operator System.
Design and Installation of a New Smart Tech Lighting System
| | |
| --- | --- |
| Client | Royal Borough of Greenwich |
| Approx value | £614k |
| Duration | Sep 2019 to Dec 2019 |
Direct Client Works
Solar Thermal Project, Rochford Hospital, Essex

This scheme comprised of the installation of new roof top solar thermal panelling, the associated distribution pipe work, new pre-heat vessels in the Plant Room. In addition to this we interfaced with the existing BMS system, and supplied an energy display board in the hospitals reception area providing details on the energy savings being made.
| | |
| --- | --- |
| Client | South Essex Partnership |
| Consultant | Nifes |
| Approx value | £90k |
| Duration | February 2015 to April 2015 |
Improvements to the ventilation system + the provision of generator support, Westminster Car Parks
The works involved taking the outline specification generated by WS Atkins for the electrical improvement and defined refurbishment of 6 car parks within the London Borough of Westminster. These schemes included:
The installation of new generators
The modification of the electrical distribution equipment and the incorporation of ATS's
Modifications and improvement to the smoke extract / ventilation systems
Inverter replacements and BMS controls
Fire alarm modifications and interlocking
Emergency lighting installation / improvements
Installation of additional lighting – plant room areas
Replacement of Co2 detection
The Vallectric programming and approach to the scheme had to include due thought for the logistics involved with the delivery and citing of such major plant as a generator within Central London. Carefully coordinated delivery dates, road closures and out of hours working all become important contributory factors in the scheme delivery, ultimately ensuring the minimal amount for our client or the surrounding neighbours of the project.
| | |
| --- | --- |
| Client | Westminster Council |
| Main Contractor | WS Atkins |
| Approx value | £900k |
| Duration |  September 2010 to November 2011 |
New Car Park Lighting, China Town

Vallectric completed the replacement of the lighting and containment within the 1960's underground car park in China Town, Westminster, which was undergoing a refurbishment and re-brand. The contract included for Vallectric to coordinate their works to facilitate continual phased usage of the car park by the public. This was successful achieved, with the Vallectric element of the refurbishment being completed on time and within budget.
| | |
| --- | --- |
| Client | Q-Park |
| Approx value | £130k |
| Duration | March 2012 to July 2012 |
School Rewire, Hargrave School

The Hargrave School project was the third school completed by Vallectric, via Robert Martell and Partners, direct for Islington Council. Vallectric were contracted to undertake a full rewire of the school, this included a new incoming service head and all associated distribution equipment plus new lighting. For a proportion of the time within the contract period the school was occupied by children. Daily interfacing with the schools management team and a flexibility to the approach on site meant that the works were delivered on time and to budget.
| | |
| --- | --- |
| Client | Islington Council |
| Consultant | Robert Martell and Partners |
| Approx value | £200k |
| Duration | August 2011 to June 2012 |
Social Value…
We recognise that involving the community throughout the life of a project is essential to its overall success and encourage both resident and local business involvement from the start. Further to this, we support any worthwhile community projects and initiatives; we like to feel our presence can make a difference. Here are some examples of our community involvement:
Environment
Running to work, Apr 2022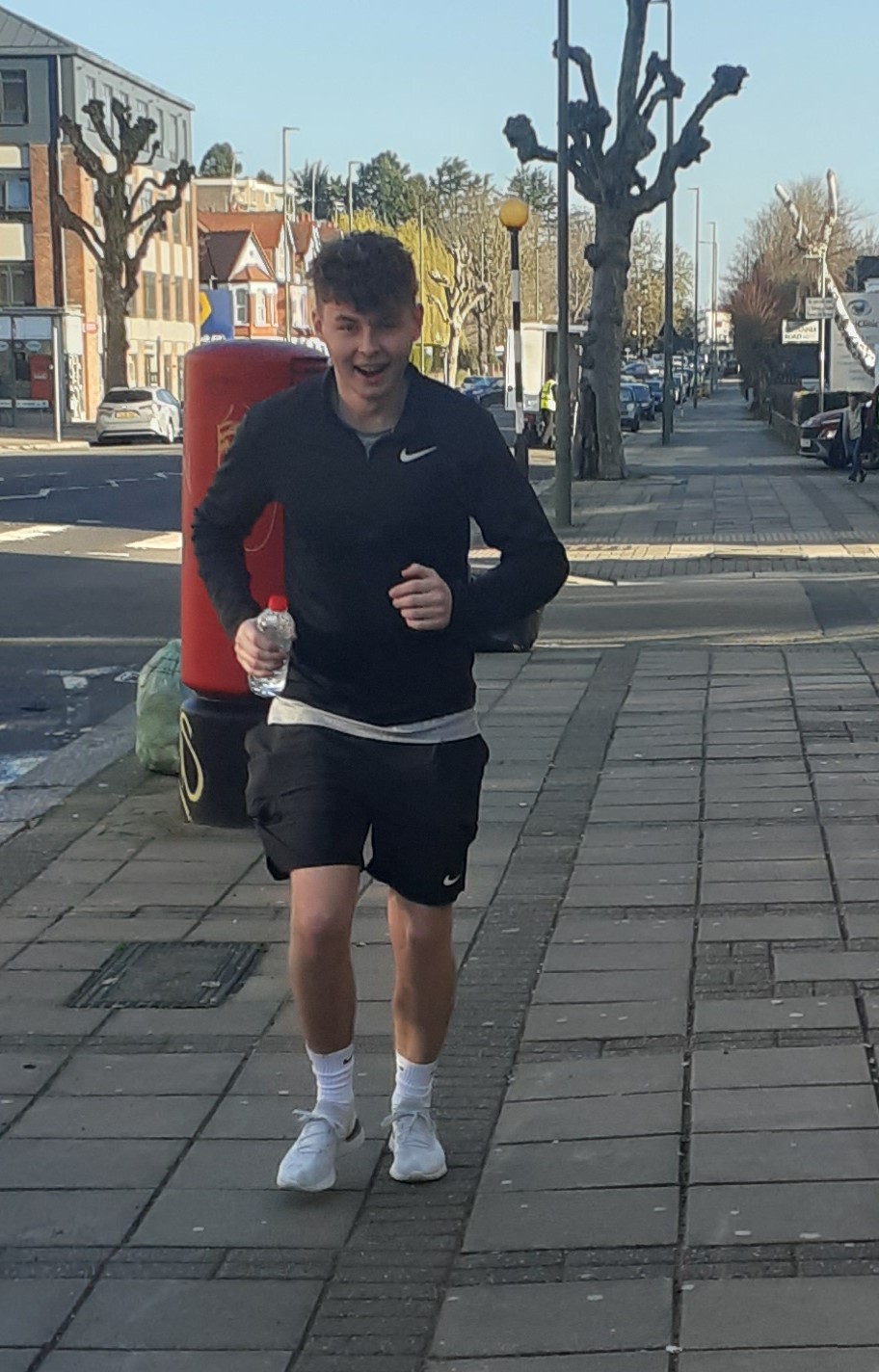 Young apprentice Calum Baker is certainly leading the way in setting an example of his healthy lifestyle to his Vallectric site colleagues and others within the local Barnet community. His daily run into work not only promotes the benefits of invigorating exercise but also enables him to make his contribution to the environment through his own reduction in carbon footprint. Well done, Calum.
Bicycling between sites, Greenwich, Jan 2021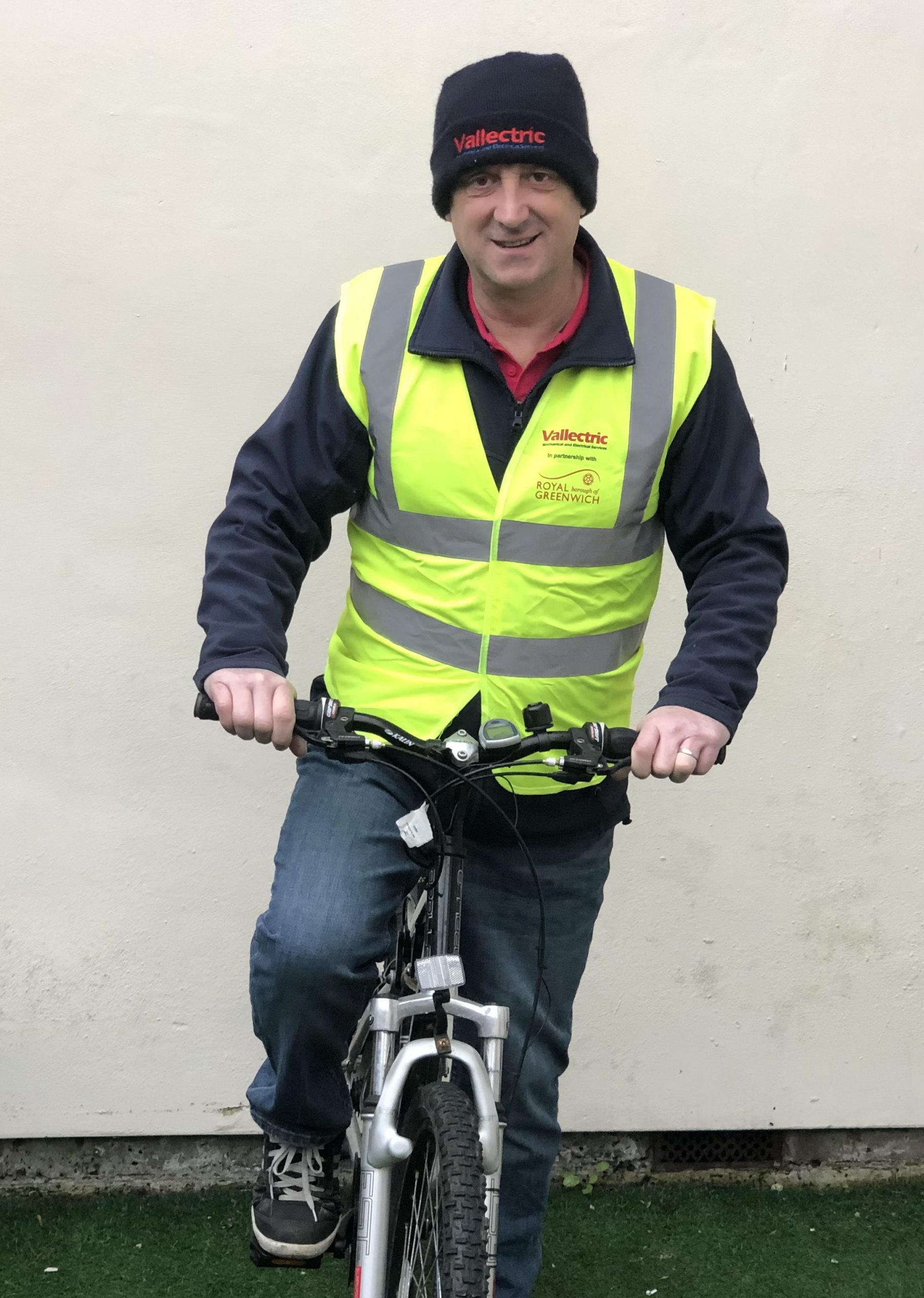 Leading by Example.... Lane Abrahams, one of Vallectric's long-standing Site Managers, has taken it upon himself to cycle between sites on the Royal Borough of Greenwich Framework scheme, to reduce our carbon footprint and to improve his own physical condition and mental wellbeing.
Donations
Diabetes UK 1 Million Steps Challenge Jul - Sep 21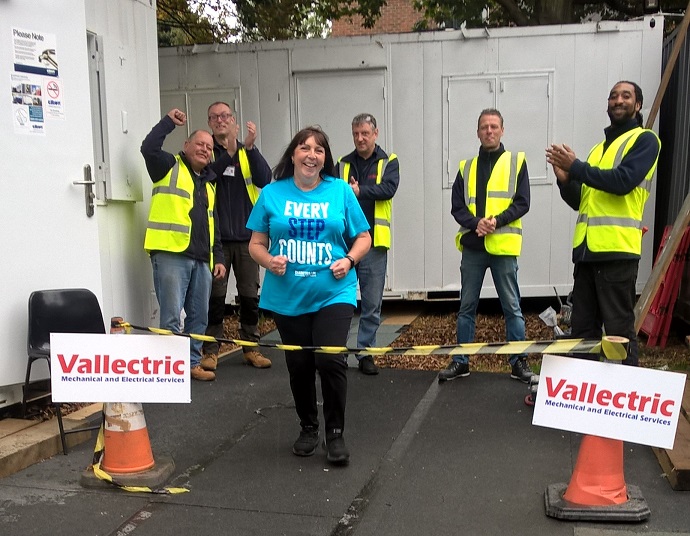 Best foot forward for the charity Diabetes UK…. Vallectric employee Jenny Lucas pictured completing her 1 million steps challenge during July – September this year. Some of her colleagues were there to spur Jenny on and see her completion of this fine achievement. Vallectric were proud to support Jenny in her efforts to raise money for such a worthy charity.
MacMillan Cancer Support National Coffee Morning, Sep 21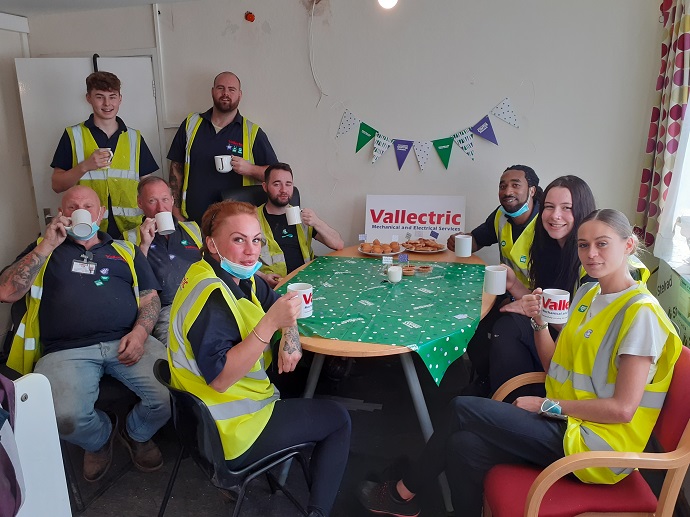 Vallectric site staff at Barnet Homes St. Johns Close site seen here turning over their coffee break in support of the MacMillan National Coffee Morning on Friday 24/09/21. Cakes and coffee were in plenty of supply and a health donation will be winging it's way to this worthy and deserving charity.
'Step Up for Dementia' challenge, Mar 2021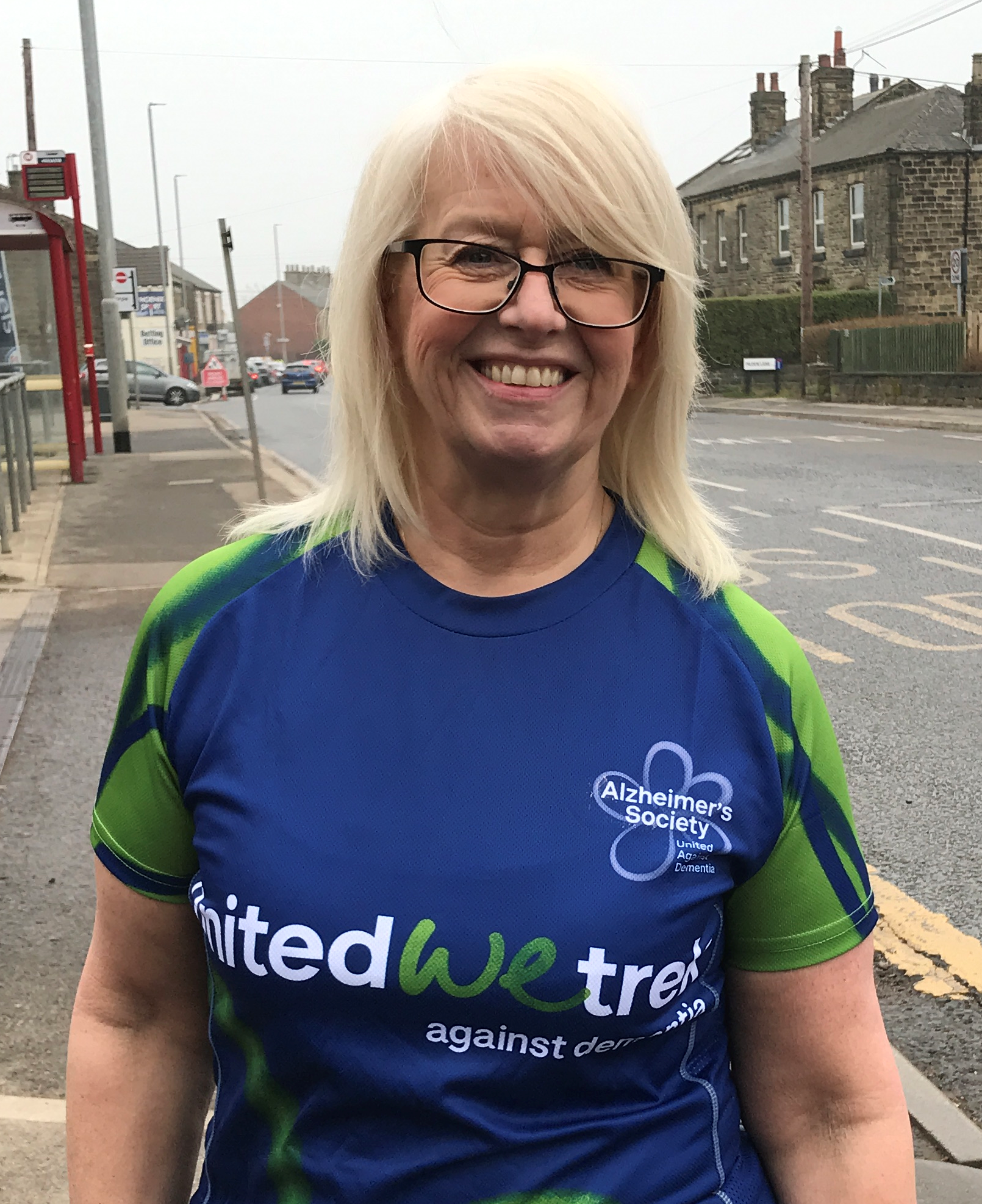 Stepping up for dementia…  Mandy Williamson as she raises funds for the Alzheimer's Society by completing 850,000 steps in the first 3 months of 2021. Vallectric were proud to support Mandy in her efforts to raise money to aid dementia sufferers who were hit particularly hard by the impact of the Coronavirus lockdowns.
Clockhouse Community Centre, Greenwich, Dec 2020
While visiting our Greenwich sites, our Social Value Co-ordinator, Bob Wilde had a chance meeting with Kevin McBrien, the Centre Manager of the Clockhouse Community Centre. Always keen to help with the local community where we can, we offered our support to the training facility by supplying much needed desks and folding tables.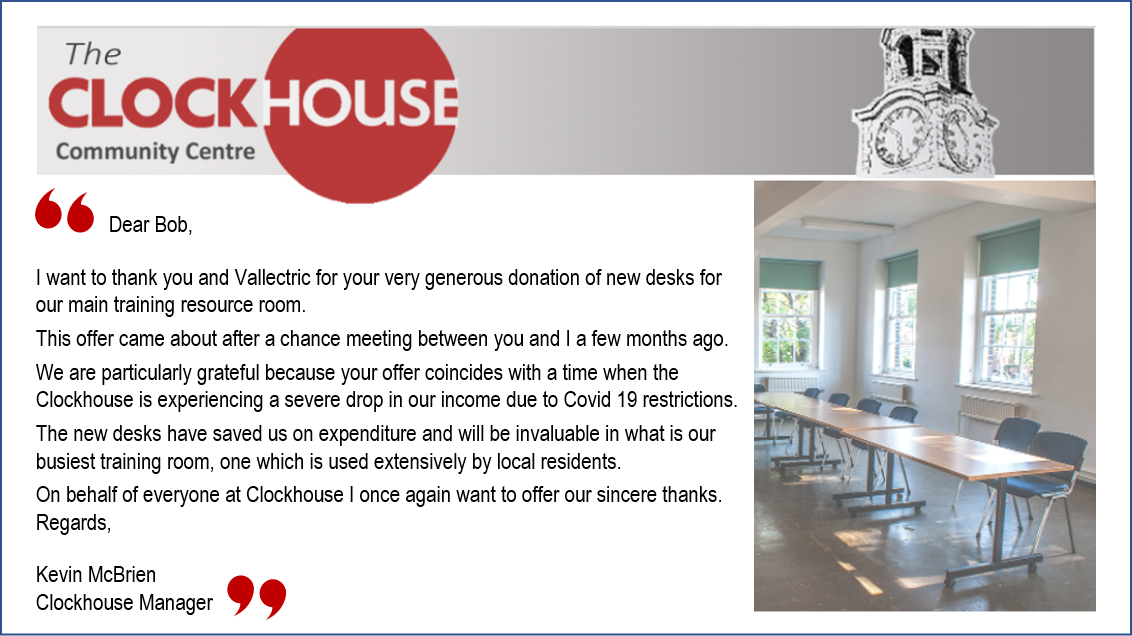 If you wish to get more of an insight into the various activities that go on at the centre, their website address is
clockhousecc.org.uk
Greenwich Food Bank, Dec 2020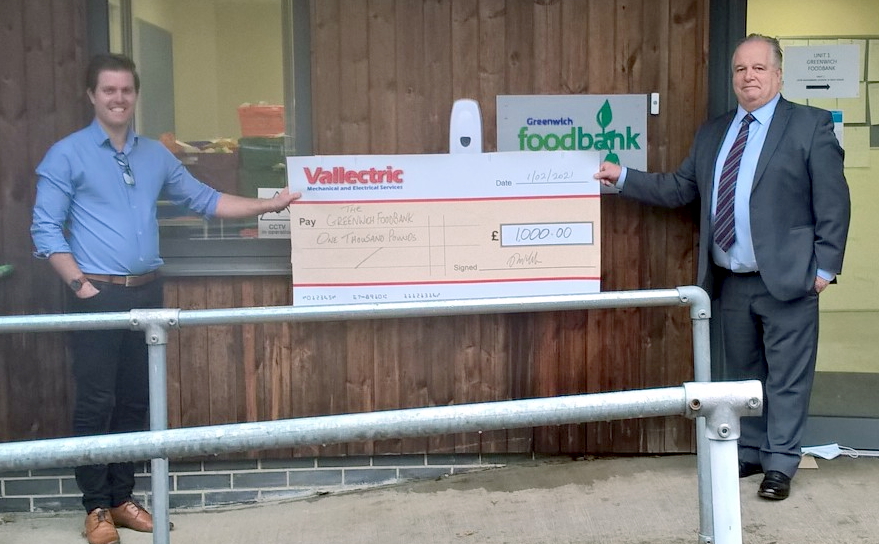 As one of the Royal Borough of Greenwich's ERM Framework Partners, Vallectric Limited have continued to support the local community and regional businesses. Aware of the need to support local foodbanks at this time of year, and especially in these exceptional times, Vallectric have contributed £1,000 to the Greenwich Foodbank Fund. The donation means that a large number of people across the borough will get the help they so desperately need during this crisis. Pictured are Jamie Ginns, Greenwich Foodbank; Bob Wilde, Vallectric
Community Response Fund, Barnet Homes, May 2020
COVID-19 is having a significant impact on all of us, whether at home or at work. Sadly many Barnet residents have lost their income, struggling financially, lacking food to feed their families or can afford to buy daily essentials. The Community Response Fund supports trusted local organisations in Barnet to provide frontline support to those most in need. As part of our investment and commitment to the communities where we work, we have donated £1,000 toward the fund.
Awards
Annual Customer Awards, Barnet Homes, Dec 2019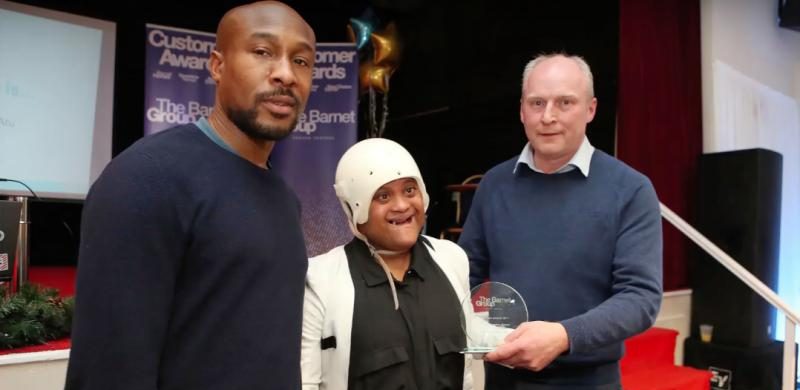 Our Operations Manager Jason Oakford presenting the Your Choice Barnet Making Progress Award to deserving winner Sarah Okeke-Aru at The Barnet Group 2019 Customer Awards. Sarah was given the award in recognition of her outstanding progress at Rosa Morison, a day service for adults with profound and complex learning disabilities.
Annual Customer Awards, Barnet Homes, Dec 2018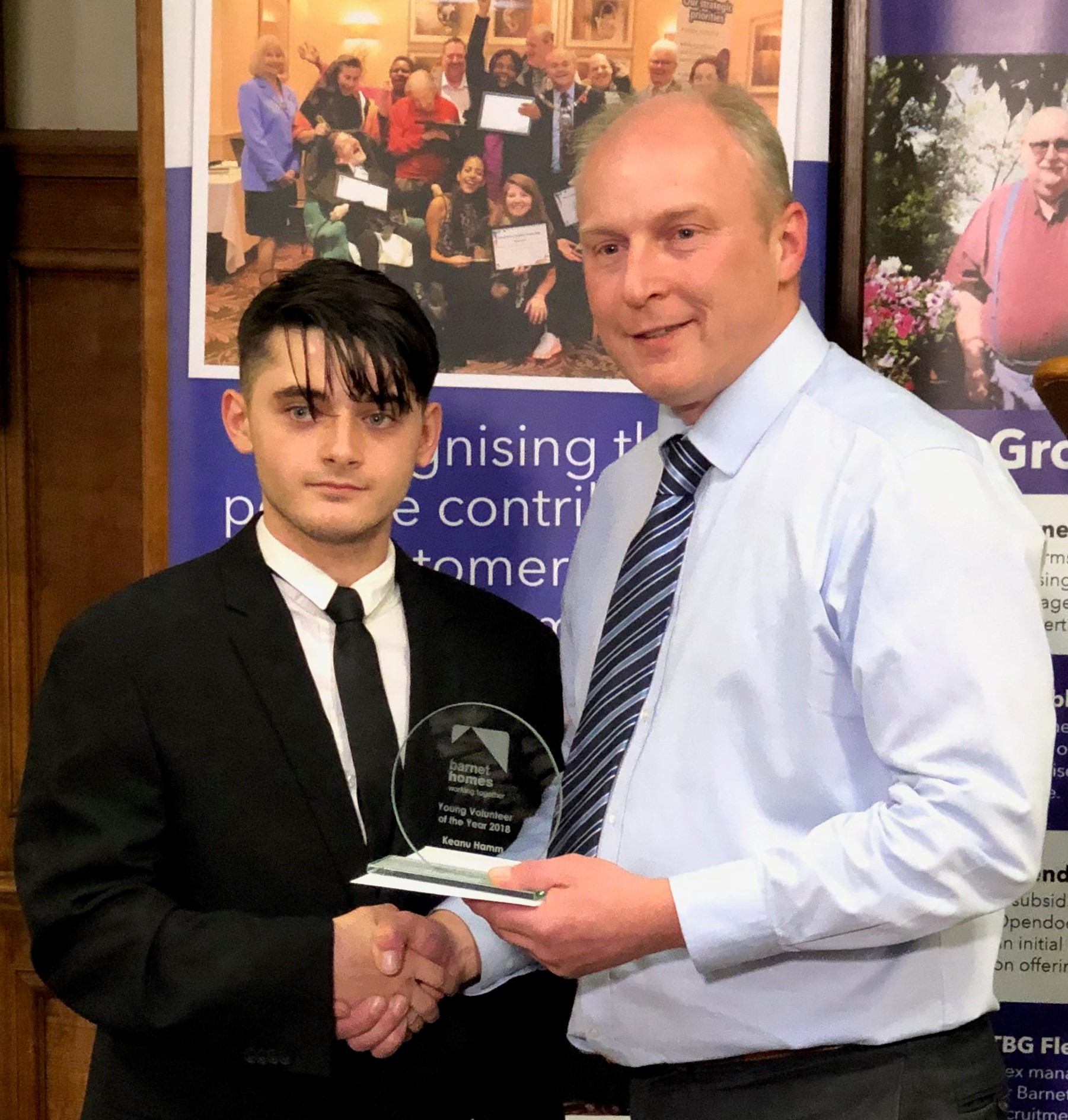 Jason Oakford (our London based Operations Manager) presents Keanu Hamm with award for Young Volunteer of the Year, an award for unsung heroes under the age of 25 whose achievement, dedication, or good neighbourliness deserve recognition in the local community.
Care
St. John's Close, Right place Right Time, Mar 2022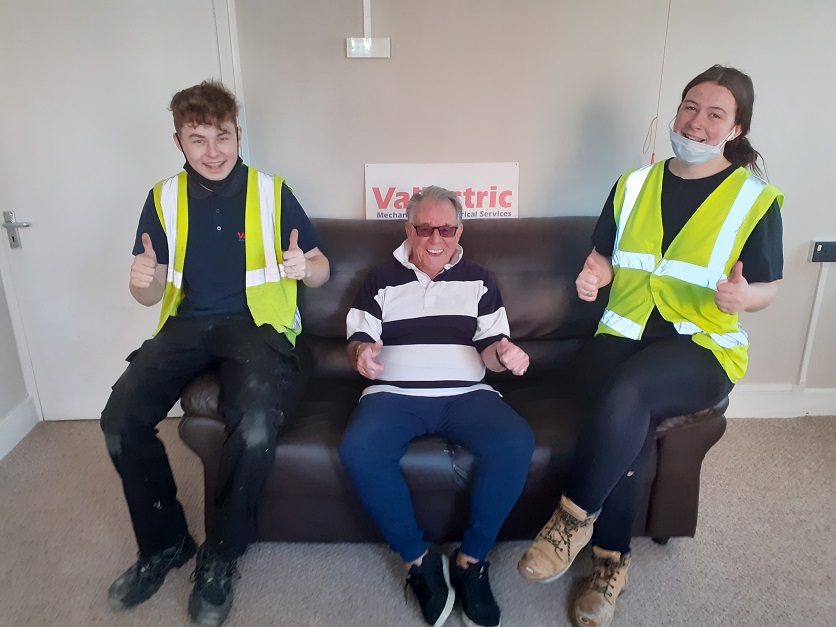 When it came to emptying out the furniture provided for residents in the temporary accommodation made available whilst work was being undertaken in their own properties, Keith Hunt (Centre) a resident at Barnet Homes St. Johns Close was in the right place at the right time. Keith's own settee had passed its useful life and he was in need of a replacement. It therefore seemed a worthy cause for Vallectric to donate the settee that they were moving out. I think that we can tell from the picture featured here what Keith's reaction was.
St. John's Close, Residents Fish & Chip meal, Mar 2022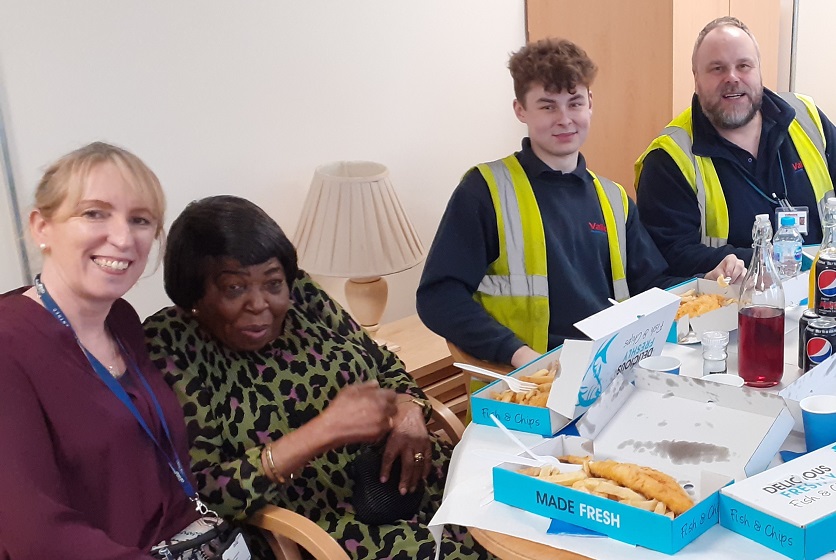 Approaching completion of the £2m ERM and Fire Safety Project for Barnet Homes at St. John's Close, the Vallectric team recently sponsored a Fish & Chip meal for residents as a thank you for their patience and forbearance during the period the work was being carried out. To keep numbers manageable and for convenience of residents the meal was served in a few sittings such as the one pictured here.
Fix it day, Barnet Homes, Nov 2021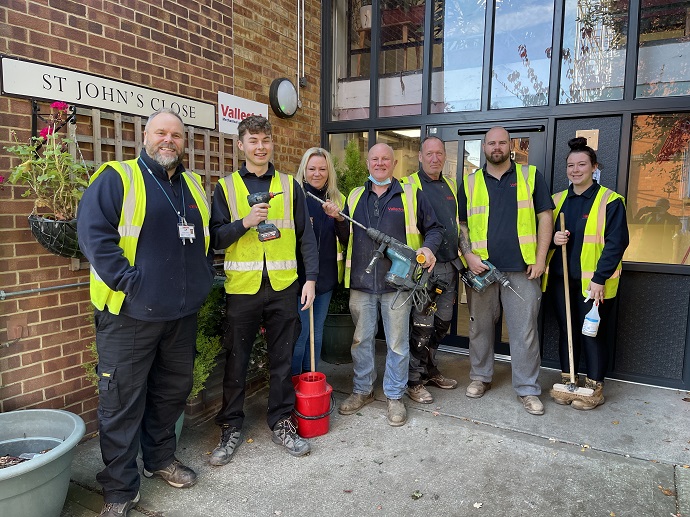 A team of Vallectric site operatives at the Barnet Homes St. Johns Close site, recently gave up their time voluntarily, to help residents with those 'odd Jobs' needing to be done. The Vallectric team are pictured here ready to set about their tasks which included picture hanging, putting up shelving, putting up blinds, painting walls, carpet laying, washing and rehanging curtains. Needless to say, the day was well received, and the work completed was much appreciated by the Barnet Homes residents.
Litter Picking, Royal Borough of Greenwich, Dec 2020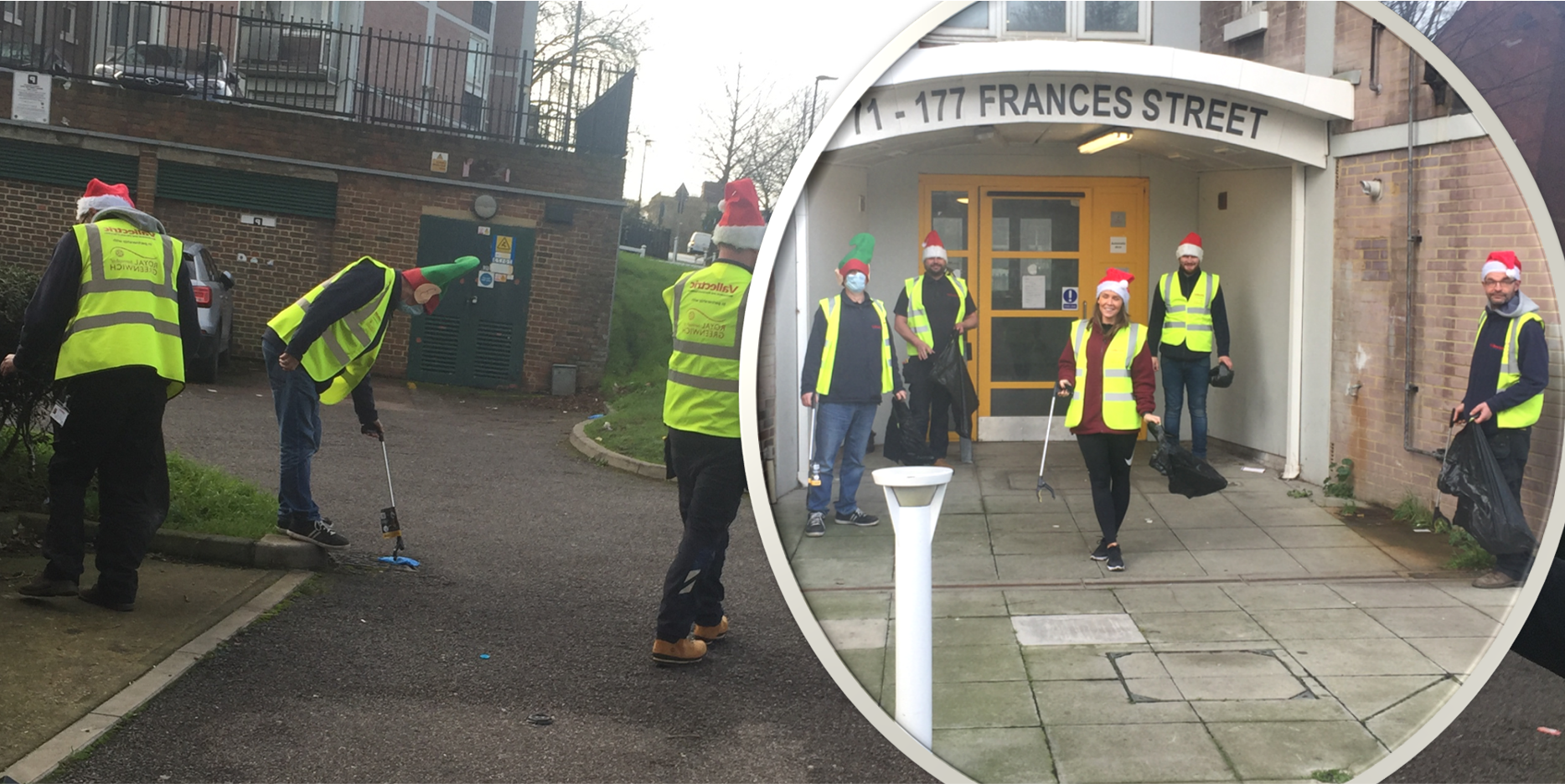 The Vallectric Limited team working in Greenwich, along with Aimi Weaver, Royal Borough of Greenwich RLO, donned their Santa hats, grabbed their litter pickers and black bags and set to work tidying the area around one of the blocks. Site Manager, Lane Abrahams commented: '
As a team, including Aimi, we wanted to improve the area for the residents, the best way we could help and have an immediate impact was on the cleanliness of the area. We got into the Christmas spirit and all became litter pickers for the day.'
Vale Court Landscaping, Barnet Homes, June 2020
Vallectric provided the materials and assisted a resident team (led by  Paul Smith, pictured) to landscape the pond area of Vale Court to provide a welcoming outdoor relaxation area for all residents to escape the rigours of indoor life during lockdown.
Longford Court Lockdown Treats, Barnet Homes, May 2020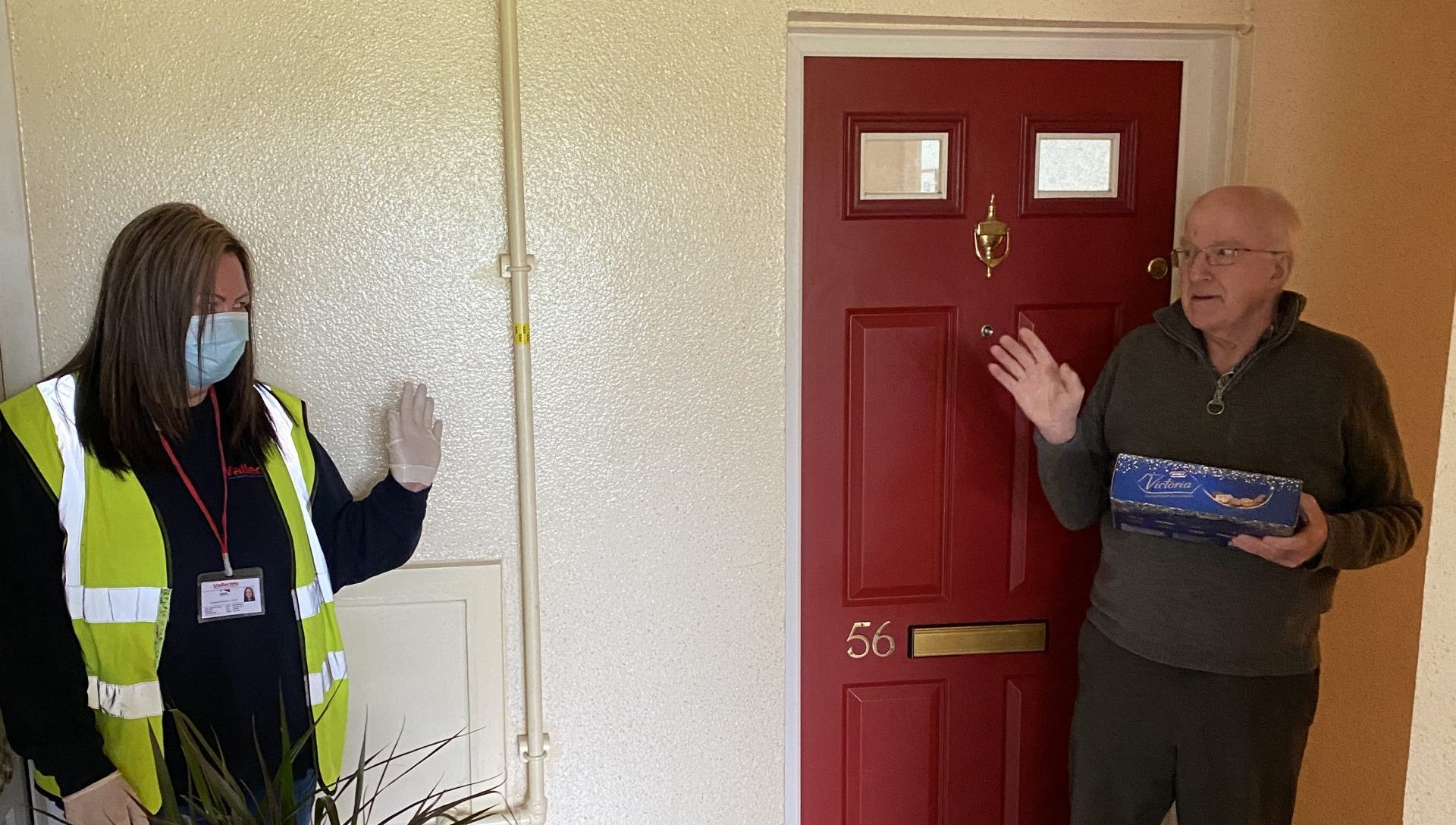 If we can provide a little joy in lockdown, we will. Our RLO Michelle McGovern surprises Peter Townend with box of chocolate biscuits for his birthday. All done with social distancing, of course!
Vale Court Tea Break, Barnet Homes, Oct 2019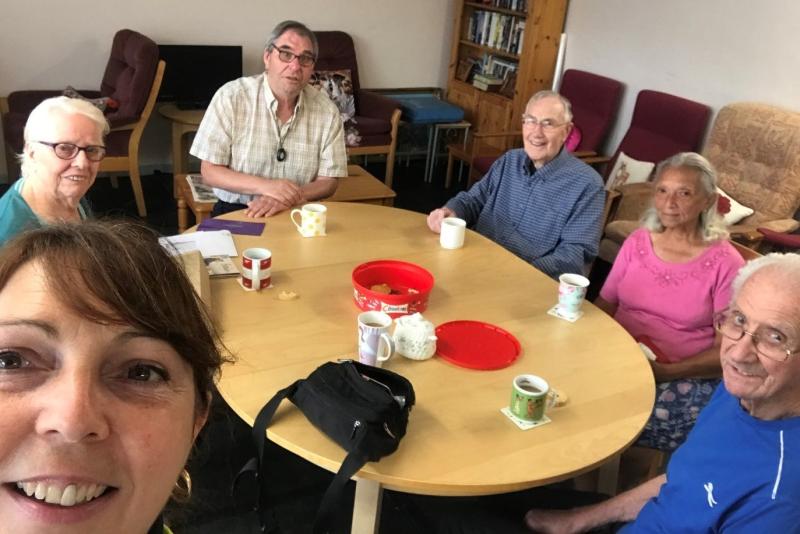 It's time for tea at Vale Court, Barnet. Residents at the sheltered block are pictured below enjoying a cuppa with Vallectric's Senior Resident Liaison Officer, Jenny Lucas. Our staff are busy making sure the works are of the highest quality, but there's always time for a quick tea break with residents. It's a good opportunity to catch up, discuss the works and update them on our progress.
The Oaks Litter Collection, Greenwich, Sep 2019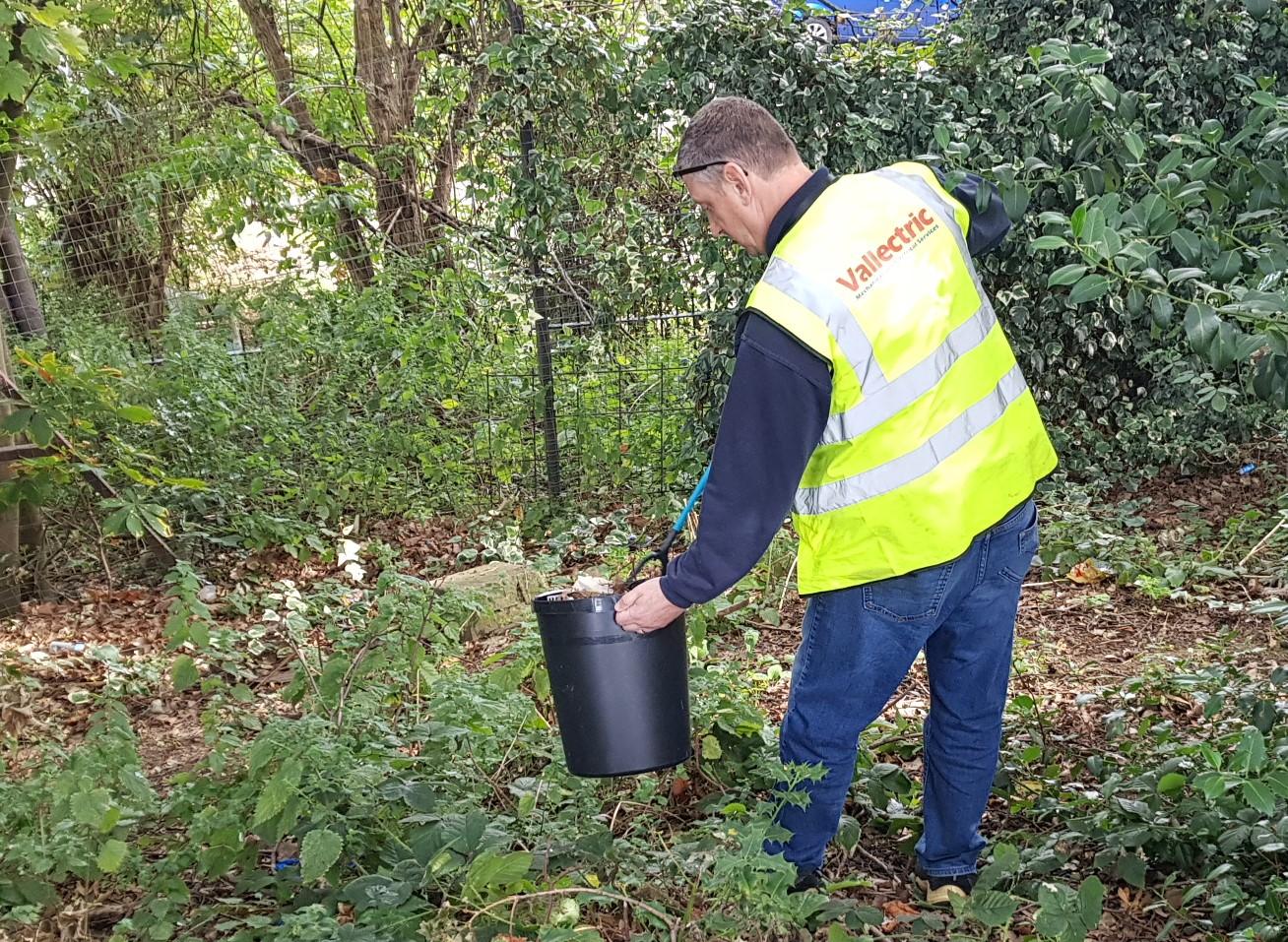 At Vallectric Limited, we take our commitment to the environment very seriously. This pictures, taken at The Oaks in the Royal Borough of Greenwich, show Site Manager Lane Abrahams leading the team on a litter-picking day.
Vale Court Garden Store, Barnet Homes, Aug 2019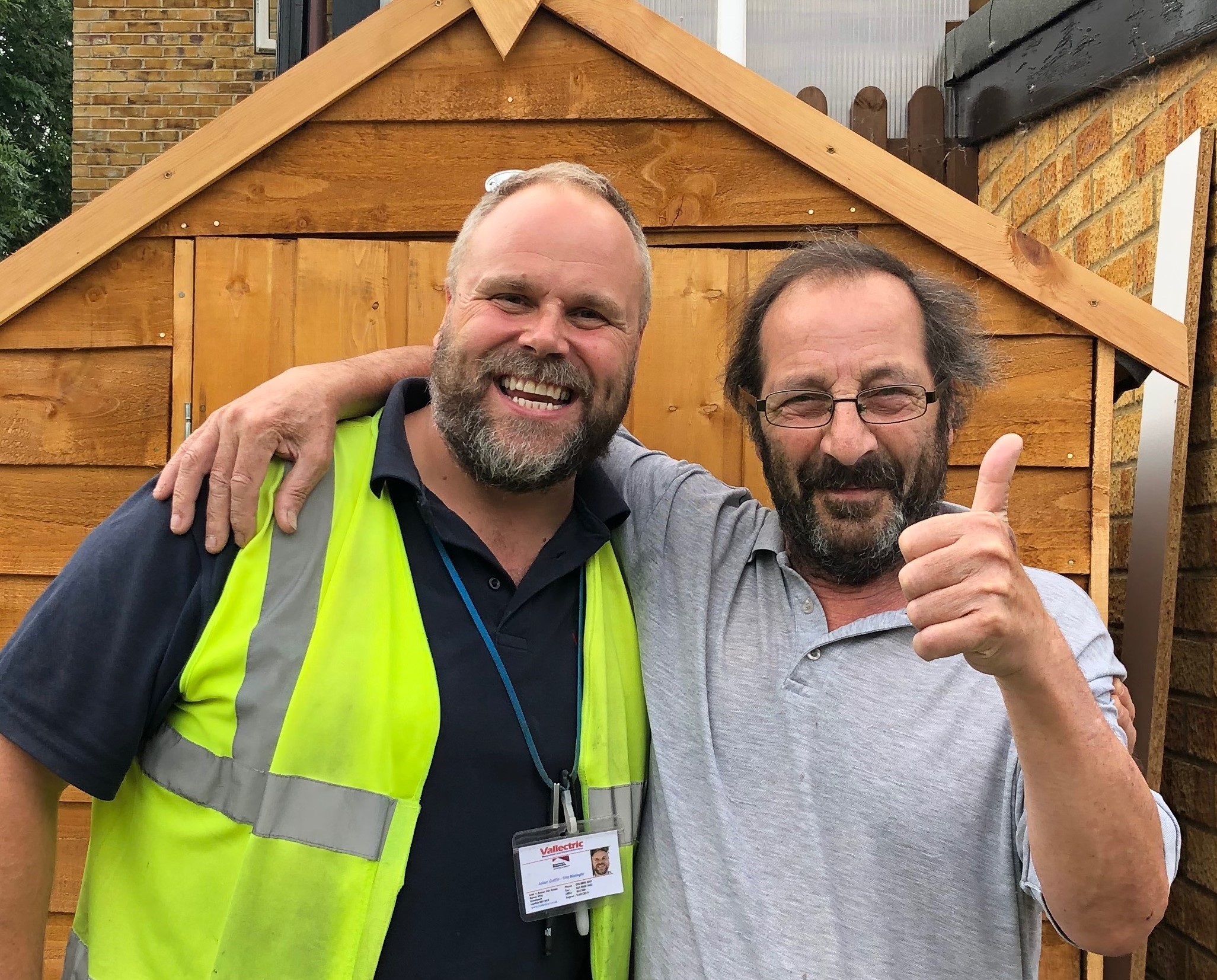 Keen gardener Tony Smith is delighted with the new garden shed at his home in Vale Court, Barnet, which was bought for residents by Vallectric. Space was limited on site and the temporary site office prevented access to the residents' garden store. To ensure the flowers continued to bloom, Vallectric provided Tony with a new shed. Site Manager Julian Griffin (pictured left with Tony Smith) said: "We know how much the garden means to residents so we were only too happy to help out."
Events
Queens platinum jubilee celebrations, Barnet Homes, Jun 2022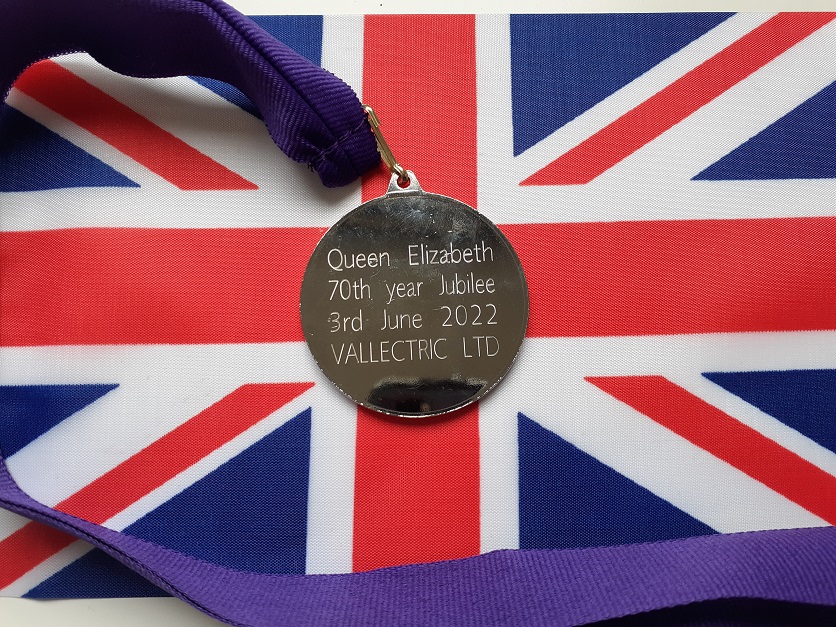 Vallectric Ltd in company with Barnet Homes Executives and Residents celebrate Her Majesty The Queen's 70th Jubilee Year. As a memento of the occasion, Vallectric had some special medals created which they awarded to selected residents in recognition of their positive actions benefiting the local community.
Christmas Raffle, Barnet Homes, Dec 2021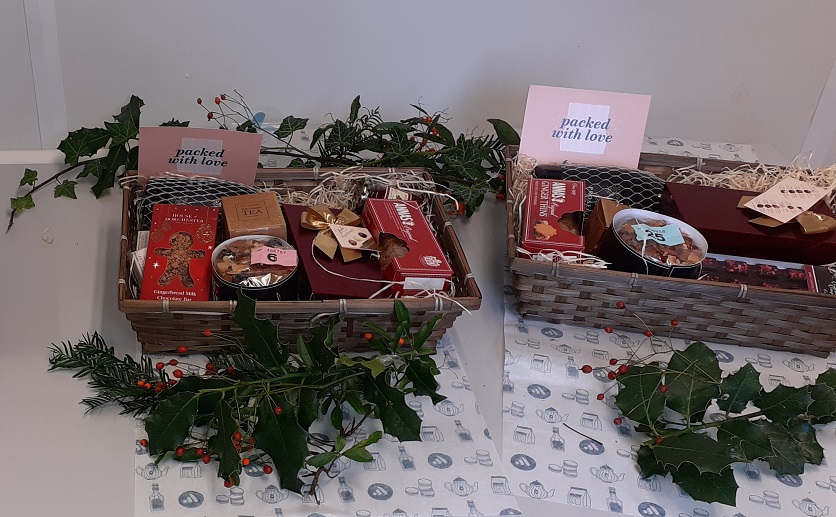 Spreading Joy at Christmas amongst Barnet Homes residents, at two of their sites; (Granville Road ) and (St. John's Close ) seen here, some of the gifts distributed as raffle prizes to the lucky winners.
Christmas Raffle, Barnet Homes, Dec 2020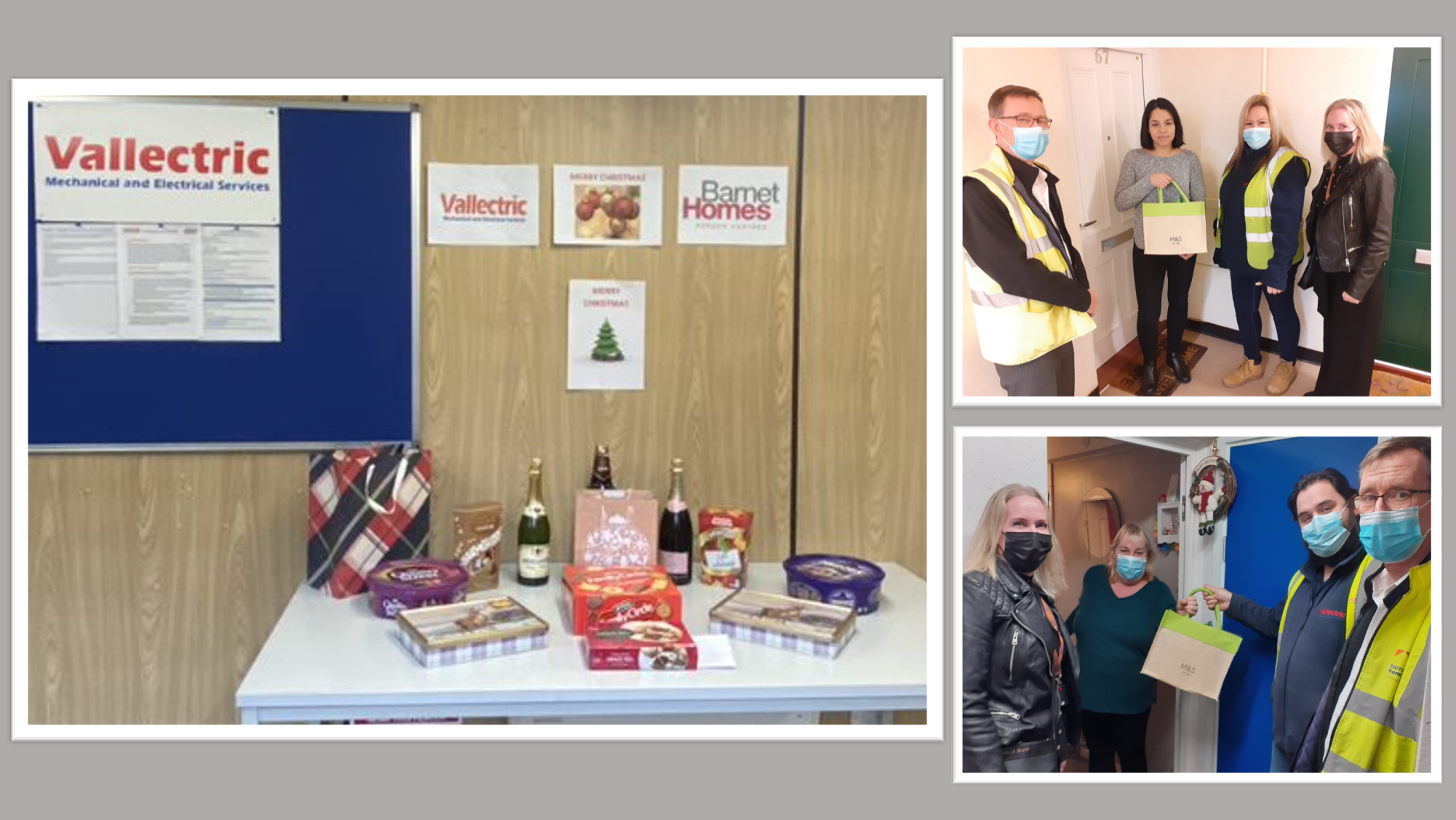 In recognition of the patience and forbearance shown by residents whilst fire safety works were carried out to their properties, and to introduce some early Christmas spirit, the Vallectric team working at Longford Court and Upper Fosters initiated a series of Prize draw raffles with Christmas gifts being given away to the lucky winners. Ian Woollard, Barnet Homes' Project Manager for both blocks, drew the winning tickets. Vallectric Limited provided the Christmas gifts.
Drummond Court Easter Tea Dance, Barnet Homes, Apr 2019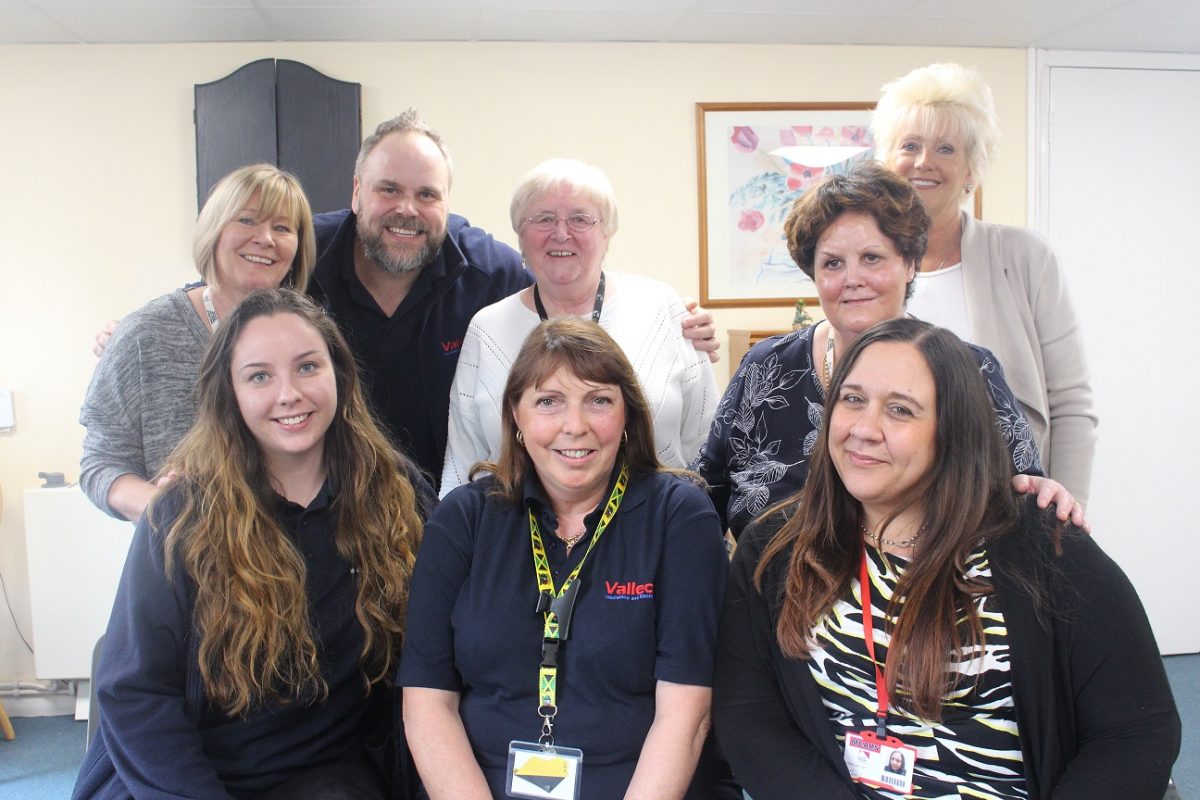 Vallectric, Mears and WG Wigginton's (and the local pub Gertie Brown and Universal Laundry) collectively made a generous donation of £500, which went towards the annual Sheltered Housing Easter Tea Dance on 16th April. This type of event really helps older people in the court benefit from that all-important social interaction.
Full story
Christchurch Close Christmas Party, Barnet Homes, Dec 2018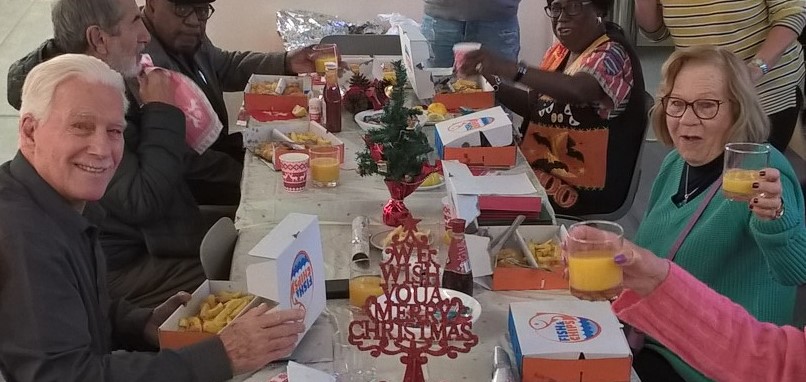 Not your usual meal for a Christmas Party, but fish & chips proved to be a great success at this party organised for the residents by our RLO team.